"[A] chastening meditation on the human future." —New York Review of Books
"Essential." —New York Times Book Review
"Not only persuasive but undoubtedly right." —Wall Street Journal
"A cultural manifesto." —Los Angeles Review of Books
What kind of world are we building for ourselves? That's the question bestselling author Nicholas Carr tackles in his acclaimed new book on the consequences of our ever growing dependence on computers.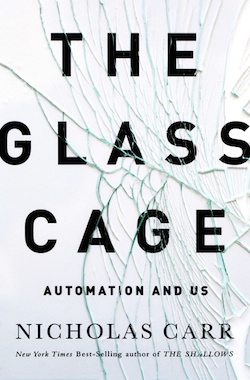 Digging behind the headlines about smart robots and self-driving cars, wearable computers and digitized medicine, Carr explores the hidden costs of granting software dominion over our work and our leisure. Drawing on studies that underscore how tightly our happiness and satisfaction are tied to performing meaningful work in the real world, he reveals something we already suspect: shifting our attention to computer screens can leave us disengaged and discontented. Our lives may be easier inside the glass cage, but something essential is missing.
From nineteenth-century textile mills to the cockpits of modern jets, from the frozen hunting grounds of Inuit tribes to the sterile landscapes of GPS maps, The Glass Cage explores the impact of automation from a deeply human perspective, mixing history and philosophy, poetry and science, The book culminates in a moving meditation on how we can use technology to expand the human experience.
Buy the book:  IndieBound : Amazon : Barnes & Noble : Powell's : 800ceoread : iBookstore
Praise for The Glass Cage:
"Nicholas Carr is among the most lucid, thoughtful, and necessary thinkers alive. He's also terrific company. The Glass Cage should be required reading for everyone with a phone." —Jonathan Safran Foer
"Essential … Read it yourself. Read the whole book, if you want to understand the dangers that many forms of automative intermediation pose to what Carr (and I, and I bet you) think is the best way of living in the world." —Daniel Menaker, New York Times Book Review
"Excellent … The Glass Cage is infused with a humanist perspective that puts people and their needs at the centre of the argument around automation and the alienation created by many modern systems. … So put down your phone, take off your Google Glass and read this." —Bill Thompson, BBC Focus
"[A] chastening meditation on the human future … There have been few cautionary voices like Nicholas Carr's urging us to take stock, especially, of the effects of automation on our very humanness—what makes us who we are as individuals—and on our humanity—what makes us who we are in aggregate." —Sue Halpern, New York Review of Books
"Nick Carr is our most informed, intelligent critic of technology. Since we are going to automate everything, Carr persuades us that we should do it wisely — with mindful automation. Carr's human-centric technological future is one you might actually want to live in." —Kevin Kelly, author of What Technology Wants
"Carr's prose is elegant, and he has an exceptional command of the facts. He serves a varied menu of the ways that technology has failed us, and in every instance he is not only persuasive but undoubtedly right." —Daniel Levitin, Wall Street Journal
"Written with restrained objectivity, The Glass Cage is nevertheless scary as any sci-fi thriller could be. It forces readers to reflect on what they already suspect, but don't want to admit, about how technology is shaping our lives." —Mihaly Csikszentmihalyi, author of Flow: The Psychology of Optimal Experience; professor of psychology and management, Claremont Graduate University
"The Glass Cage re-defines the meaning of 'must read.' As in … M-U-S-T  R-E-A-D." —Tom Peters, author of In Search of Excellence
"Carr brilliantly and scrupulously explores all the psychological and economic angles of our increasingly problematic reliance on machinery and microchips to manage almost every aspect of our lives. A must-read for software engineers and technology experts in all corners of industry as well as everyone who finds himself or herself increasingly dependent on and addicted to gadgets." —Booklist (starred review)
"Carr's astute survey of automation shows just how quickly and uncritically we have outsourced the daily experience of being human to algorithms and machines, and how crucial it is to stop and reflect on what we are doing to ourselves. … Carr's book is a reminder that we ought to expect more from ourselves." —Christine Rosen, Democracy
"Superb … Carr — one of our greatest technology critics — expands his focus to describe the nature of tool-using in a world where machines are constantly saying, 'allow me.' His assessment is fascinating, balanced and packed with fuel for dinner table arguments." —Michael Harris, Ottawa Citizen
"This deep dive into everything from wearables to driverless cars is a fascinating look at how automation changes the way people think and act. It raises some serious questions about the future of technology and artificial intelligence." —Alan Murray, Fortune
"Carr draws on a formidable array of research, spiked with resonant anecdotes, to press his case; his facility at joining the dots makes The Glass Cage a mellifluous read." —Sumit Paul-Choudhury, Literary Review
"In The Glass Cage [Carr] brings a much-needed humanistic perspective to the wider issues of automation. In an age of technological marvels, it is easy to forget the human." —Richard Waters, Financial Times
"The Glass Cage is smart, insightful, and at times funny, as it takes readers through a series of anecdotes, academic research, and current and historical events to paint a portrait of a world readily handing itself over to intelligent devices." —Jacob Axelrad, Christian Science Monitor
"Brilliantly written, incisively argued, masterfully researched and morally moving." —Gaylord Dold, The Wichita Eagle
"Thoughtful and terrifying … The Glass Cage is not an anti-technology book by any means, but it does pose big, difficult questions." —Esther Cepeda, Dallas Morning News
"Elegantly persuasive." —John Preston, The Telegraph
"[An] incredible synthesis … Carr provides an elegantly written history of what role robotics have played in our past, and the possible role that they may play in our future. In a world where there's a lot of technology cheerleaders, Carr is one of our most valuable skeptics." —Elisabeth Donnelly, Flavorwire
"Without resorting to scare tactics or sermonizing on the dangers of overautomation, [Carr's] book details in careful, measured ways both the promise of mechanization and its drawbacks … His historical, inclusive approach makes an issue most of those already deeply steeped in technology won't find at all surprising — that what we're losing might outweigh what we gain by relying on computers — a stimulating, absorbing read." —Michelle Scheraga, Associated Press
"Where other critics are shrill and frothy, Carr is level-headed; an eloquent writer and a subtle thinker." —Andrew Leonard, Medium
"Masterful and mind-boggling." —Paul DiFilippo, Barnes & Noble Review
"Nicholas Carr [is] one of America's foremost technology critics … In his latest book, The Glass Cage, Carr argues that we have failed to consider the hidden costs of automation, that our penchant for delegating mundane tasks to technology is misguided, and that we must redesign our favorite technologies in such a way that humans take on more responsibility — both of the moral and perceptual varieties — for operating in the world." —Evgeny Morozov, The Baffler
"Provocative … Who is it serving, this new technology, asks Carr. Us? Or the companies that make billions from it? Billions that have shown no evidence of trickling down. The question shouldn't be 'who cares?' he says at one point. It should be: how far from the world do we want to retreat?" —Carole Cadwalladr, The Observer
"Carr, the consistently trenchant analyst of technological change who wrote The Shallows, here offers a thoughtful and sometimes disturbing account, grounded in science and poetry alike, of the ways that our increasing reliance on technology is affecting our happiness and re-shaping our humanity." —Forbes
"Artificial intelligence has that name for a reason — it isn't natural, it isn't human. As Nicholas Carr argues so gracefully and convincingly in this important, insightful book, it is time for people to regain the art of thinking. It is time to invent a world where machines are subservient to the needs and wishes of humanity." —Donald Norman, author of Things that Make Us Smart and Design of Everyday Things; director of the University of California San Diego Design Lab
"Most of us, myself included, are too busy tweeting to notice our march into technological de-humanization. Nicholas Carr applies the brakes for us (and our self-driving cars). Smart and concise, this book will change the way you think about the growing automation of our lives." —Gary Shteyngart, author of Super Sad True Love Story and Little Failure
"Nick Carr is the rare thinker who understands that technological progress is both essential and worrying. The Glass Cage is a call for technology that complements our human capabilities, rather than replacing them." —Clay Shirky, author of Here Comes Everybody and Cognitive Surplus
"Sweeping, engaging, informative, [The Glass Cage] elicits much needed reflection on the philosophical and ethical implications of over-reliance on automation. Carr deftly incorporates hard research and historical developments with philosophy and prose to depict how technology is changing the way we live our lives and the world we find ourselves in." —Publishers Weekly
"A sobering new analysis of the hazards of intelligent technology … We can't say we weren't warned." —Hiawatha Bray, Boston Globe
"Fresh and powerful." —Mark Bauerlein, The Weekly Standard
"Very good … The Glass Cage warns that we may be creating a technological environment that erodes our skills, anaesthetises our curiosity and dims our critical faculties. From airline cockpits to central heating systems, cars and phones, we are swaddling ourselves in technologies whose workings we don't understand, and that ask so little of us that we feel no need to enquire further." —Ian Leslie, New Statesman
"A book that impressively extends and deepens the argument of The Shallows. Carr has proven to be among the shrewdest and most thoughtful critics of our current technological regime; his primary goal is to exhort us to develop strategies of resistance." —Alan Jacobs, Books & Culture
"Carr digs past the surface level of most contemporary discussions of technology, exposing the subtle yet far-reaching ways that technology shapes who we are and what we do." —Evan Selinger and Jathan Sadowski, The New Atlantis
"On one level, The Glass Cage is a simple argument about technical skills: if we don't use them, we lose them. But it's also, in a deeper and broader way, a cultural manifesto." —Clive Thompson, Los Angeles Review of Books
"The Glass Cage should be read as a work of iconoclasm, shattering our illusions of automation as a liberating necessity. More fundamentally still, Carr is calling us to defend what is most basic to our humanity. "Our highest obligation," he writes in his last and finest chapter, "is to resist any force, whether institutional or commercial or technological, that would enfeeble or enervate the soul." May we not be too dazzled by our gadgets to heed the insights found in this lucid book." —Eric Anglada, Geez
"A thought-provoking and accessible look at the costs — economic, cognitive, and moral — of our society's increasing reliance on automation." —Kevin Roose, New York
"Beginning with the glass cage of the title, which refers to the virtualised environments of contemporary jet airliners, Carr proceeds to prise us psychically apart from the steely embrace of automation. He convincingly demonstrates that, far from being mere labour-saving devices, computer-coordinated automatic systems can in fact present a vital risk." —Will Self, The Spectator
"A worthy antidote to the relentlessly hopeful futurism of Google, TED Talks and Walt Disney." —James Janega, Chicago Tribune
"The Glass Cage is an elegant and elegiac book that raises doubts about the worth of automation in a variety of settings, from driving to farming to flying. Is Carr correct that automation costs us not only our jobs, but often our souls as well? He probably is." —Thomas Davenport, CIO Journal
"If you always wanted your own Rosie the Robot, or if you've unsuccessfully tried to give up your smart phone for a day, this book will give you plenty to ponder – or to fear. Start The Glass Cage, and you won't be able to put it down." —Terri Schlichenmeyer, Nashville Ledger
"[A] deeply informed reflection on computer automation." —G. Pascal Zachary, San Francisco Chronicle
"A very necessary book, that we ignore at our peril. I read it without putting it down." —Iain McGilchrist, author of The Master and His Emissary
"Important [and] well-argued." —Kirkus
Publishers:
US and Canada: W. W. Norton
UK and Australia: The Bodley Head
Germany: Hanser Verlag
Netherlands: Maven
Spain: Taurus
Italy: Cortina
Korea: Korea Economic Daily Media Group
Japan: Seido Sha
China: CITIC
Russia: Atticus
Romania: Publica
Vietnam: Tre
Czech Republic: Emitos
Poland: Jagiellonian University Press
Serbia: Heliks
Audio: Brilliance